Others 'N Honey
Others
'N Honey
more delicious
honey products
Lemon
'N Honey Lozenges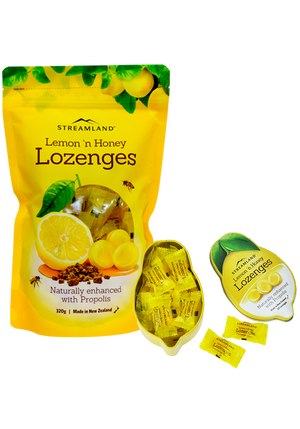 Lemon 'n Honey lozenges are super soothers - a gift for sore throats and sniffles. We say, they're a must for any household. Streamland Lemon 'n honey lozenges include propolis (another rich gift from the bee-hives carrying many health benefits).
Propolis Oral Spray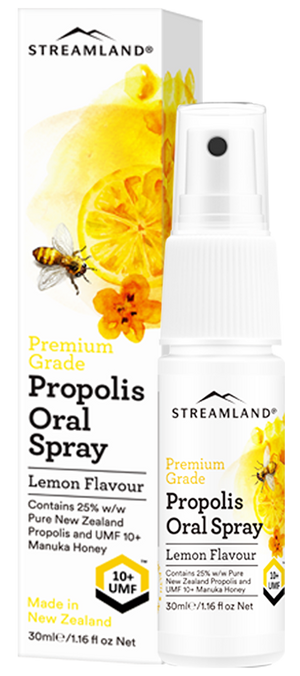 Sore throat? Here's your healthy weapon. Streamland oral spray combines the natural anti-inflammatory property of propolis with the anti-bacterial property of UMF 10+ Manuka Honey to relieve sore throats and improve oral hygiene. Its sweet taste can be attributed to lemon extract.
Comb Honey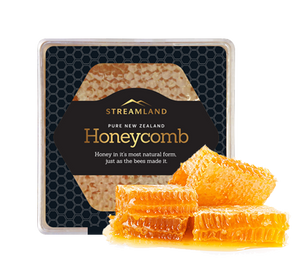 The wording on our honeycomb packaging says… Honey in its most natural form. Just as the bees made it. We love that. Honeycomb honey is like a work of art, made by the honey masters (those busy bees) themselves, with little human intervention. It's cut straight from the hive. We say honeycomb honey truly is a gift from nature. Honeycomb is a delicious and nutrient–rich snack. Add it to recipes, teas, and smoothies.
Manuka UMF 10+ Lozenges Flavoured Honey Sachet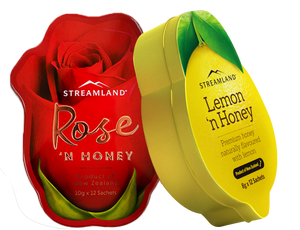 At Streamland we specialise in serving up deliciousness. Why limit the way we do so? A taste of Streamland goodness can be found in sachets as well as our honey pots. Our sachets provide an easy way to get the natural pure taste of New Zealand honey. Check out our Rose 'n Honey, and Lemon 'n Honey sachets.